INFAC Horn Systems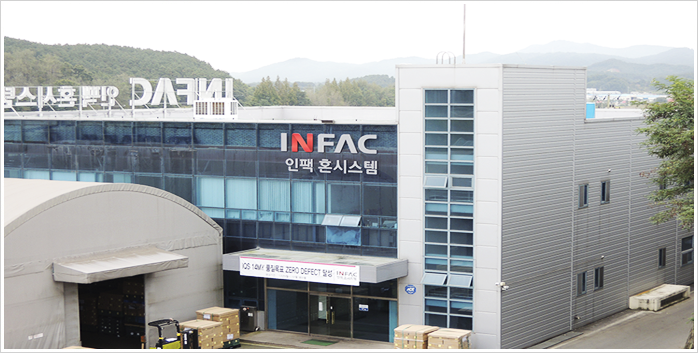 | | |
| --- | --- |
| Company Name | INFAC Horn Systems |
| Date of Foundation | Aug. 12, 1991 |
| Address | 7, Yongwon1-gil, Sungnam-myun, Dongnam-gu, Cheonan, Choongcheongnam-do |
| Phone No. | 041-553-6262 |
| Fax No. | 041-553-3596 |
| Major Production | Auto Horn |
ABOUT US
INFAC Horn Systems was established in Cheon-an, South Chung-cheong Province in 1991, aimed as a leading company in GLOBAL INFAC Horn manufacturing system.
We supply electric horns, electric horns, air horns to automobile manufacturers such as Hyundai Kia Motors, Ssangyong, Renault Samsung, and heavy equipment manufacturers such as Doosan Infracore and Clark. INFAC Horn Systems has been strengthening its product competitiveness through continuous investment and quality innovation for 20 years in order to grow into a horn-specialized enterprise representing Korea. All employees are doing their best to realize customer satisfaction at this time. In addition, we established an overseas plant in Qingdao, China in 2002 and Vietnam in 2008, to ensure price competitiveness and stable supply of products.
INFAC Horn Systems is launching a new challenge to become a representative company in the world market beyond the domestic market. Please give your deepest interest and encouragement to INFAC HORN SYSTEMS, which is going to leap into a global company in the auto parts industry.
Main Product